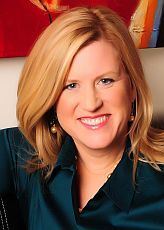 Laurie Watson, MA, LMFT, Director of Awakenings, certified sex therapist has twenty-five years of experience working with couples and individuals about love and sex. Laurie says, "I've never seen a couple who I didn't feel hope about their healing and happiness. The difficulty is convincing them to give up the idea that only their partner will have to change!"
Popular podcast host of FOREPLAY – Radio Sex Therapy, she also authored her first book Wanting Sex Again – How to Rediscover Desire and Heal a Sexless Marriage (Penguin) in December 2012. A popular blogger for the general public with over 3.5 million reads on Psychology Today Online in Married and Still Doing It, Laurie also lectures professionals at Duke's and UNC Chapel Hill's medical schools on sexual function and dysfunction. Featured in her hometown in the Raleigh News&Observer, Laurie has also been published or quoted in most every nationally popular magazine like Glamour, Women's Health, Men's Health, Cosmopolitan, Buzzfeed, etc. A popular media figure, she has appeared on the Katie Couric Show and is regularly on radio and television in Raleigh and Greensboro. Director/owner of Awakenings Counseling for Couples and Sexuality, Laurie supervises 6 clinicians in both Raleigh and Greensboro.
She's a member of St. Michael's Episcopal Church, has been married for 31 years and has three grown sons.
Accreditations:
NC Licensed Marriage Family Therapist
NC Licensed Professional Counselor
Certificate in Psychodynamic Psychotherapy, Newport Psychoanalytic Institute, CA
Certified Sex Therapist with American Association of Sexual Educators, Counselors and Therapists (AASECT)
Professional Member of SSTAR (Society of Sex Therapists and Researchers)
Professional member of AAMFT (American Association of Marriage Family, Therapists)
MA, Marriage, Family Therapy, Azusa Pacific University, CA, 1991
Suggested Speaking Topics
Popular Talks:
The Erotic Woman
Healing the Sexless Marriage
Have Great Sex after 50
6 Sexy Secrets for Happy Couples
Erotic Communication for Couples
Telling your Children about Sex
Talk to Me and I'll Give You Sex; Give Me Sex and I'll Talk to You
3 Stages of Every Healthy Marriage: Fall In, Fall Out, Fall Back in Love
Pursuers and Distancers in a Power Struggle over Sex
The Family's Legacy on Intimacy and Sexuality
Teaching Our Girls About Sex, their Bodies, their Power,
Married and Still Doing It
Sex and the Soul of a Woman
Academic Lectures:
Attachment Theory and Couple Sexuality
DSMV Sexual Disorders
Resolving Low Libido in Women
Treating Low Desire in the Male Patient
Mastering the Sexual Intake for Couples
Integrating Family Therapy and Sex Therapy
Sexual Function and Dysfunction for MDs, PTs, PAs
How to Analyze Low Desire in 6 Minutes (or less)
Sexual Recovery after Breast Cancer
Get Comfortable Talking Sex with Your Patients
Educate the Prostate Cancer Survivor Couple on Sexual Possibilities
Diabetes and Libido
Vulvadynia, Vestibulities, Vaginismus
Couple's Therapy
Speaking Engagements
Please fill out the form below to discuss dates and fee for speaking/conferences.
"Laurie Watson has a gift for relating to women."
– Julie R. McQueen, CHES, Oncology Patient Navigator, Duke Cancer Center, Raleigh
"A valuable therapeutic resources…"
– Carol Casper Figuers, PT, EdD, Associate Professor, Doctor of Physical Therapy Division, Department of Community and Family Medicine, Duke University School of Medicine
"Laurie Watson has a wonderful method…Her warmth, caring and passion for what she does really shines through."
-Ingrid Harm-Ernandes PT, WCS, BCIS-PMDB, Orthopedic/Women's Health Specialties, Duke Hospital
"Laurie came and spoke to our group of over 100 physicians and med students.  It was a fantastic night of learning. You could have heard a pin drop in the room. She is so compassionate about what she does and was able to provide amazing insight and perspective from her years of experience. It was helpful for us both personally and professionally. What a resource we have in our community!"

-Elizabeth Kelly MD, Assistant Professor of Emergency Medicine, Wake Forest Baptist Health