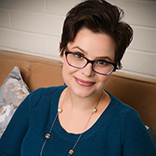 Devon Abdo, LMFT, is a Licensed Marriage and Family Therapist who specializes in couples counseling and sex therapy. She received her undergraduate degree in both Psychology and Studio Art at UNC at Chapel Hill in 2013. Devon completed her Masters in Couples and Family Therapy at Thomas Jefferson University in Philadelphia, Pennsylvania. During her time in Philadelphia, Devon had the opportunity to practice therapy in both a family homeless shelter and a community-based outpatient office. She also taught a ten-week sex education course at a local Montessori middle school.
Devon's therapeutic approach combines multiple empirically-supported theories including Emotionally Focused Therapy, Mindfulness, and Cognitive-Behavioral Therapy. She works to tailor each session to the needs and preferences of her clients. Her sessions cultivate a calming environment with a healthy dose of humor. Devon is trained to work with a diverse clientele with a background in chronic illness, couples sexual issues, LGBTQ, and sex therapy as well as clients with different philosophies of intimate relationships.
While Devon grew up in Southern California, her heart truly belongs in North Carolina. She appreciates southern charm, hospitality, and food and even likes the humidity! In her spare time, Devon enjoys being crafty with crochet, embroidery, and painting. Dogs and guinea pigs are her favorite animals. She and her fiancé have an extensive comic book collection and have not missed a Wednesday trip to the comic shop in over seven years!