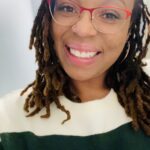 ZHANA BALAAM
MSW, LCSWA
(She/Her/Hers)
Zhana Balaam is an Associate Licensed Clinical Social Worker. She acquired her Bachelor's degree in Psychology from Fayetteville State University and her Master's degree in Social Work also from Fayetteville State University. Zhana is devoted to assisting individual clients and couples along their mental, emotional,
and sexual healing journeys.
Zhana has clinical experience working with diagnoses of anxiety, depression, adjustment disorder(s), grief, infidelity, and trauma. In doing so, Zhana utilizes a cognitive behavioral approach to assist clients in understanding the effects of their thoughts/emotions and a cognitive processing approach to assist clients answer the key question "why". Acknowledging the impact of race and culture, Zhana establishes a safe and secure space for clients to decompress while attending to diverse needs through various interventions. Additionally, Zhana provides Christian counseling with a biblical foundation. Through a collaborative/therapeutic relationship and active participation, Zhana ensures growth, healing, and wholeness will be found with her services.
Exercising self-care, Zhana enjoys napping and cosmetology pampering. For entertainment and fun, she can be found spending time with family members and her fur baby Zeus.