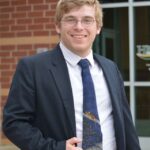 KENNETH RIFFELL
MS, LMFTA
(He/Him/His)
Kenneth Riffell is a Marriage and Family Therapist Associate with an MS in Marriage and Family Therapy from Abilene Christian University.
Kenneth learned from a young age that relationships can be the source of hurt and healing. Often people are unsure of why they feel sad, angry, or fearful. Many find that therapy can be like piecing together a puzzle. The fragmented past seems chaotic and bleak, but with some insight and work, a picture can be made that brings clarity for the present and confidence for the future. The skills used to put the past together can be used to shape more secure, loving, and life-giving relationships in the present.
Kenneth emphasizes attachment theory and Emotionally-Focused Therapy in his work with clients, helping couples and families to slow down their interactions, keep the emotional temperature low, and voice their real need to feel worthy, loved, and secure…which usually hide  behind the need for the dishes to be washed and the trash to be taken out. Another part of the work is to help people hear the voiced needs of their loved ones and respond in a loving way. With patience and mutual humility, the process of healing relationships can be the most rewarding task.
Kenneth's passion is to see families made whole again, with the firm belief that families are the building block of society. If the family can be healed, then our communities can be healed. 
Kenneth offers sex therapy for both couples and individuals. Additionally, he has completed over 60 hours of intensive training in attachment-based couple's therapy called Emotionally Focused Therapy (Externship and Core Skills.)
In his down time, Kenneth loves going to the park to read with his wife and drink coffee, go to the gym, go to church, and watch hours of work-place sitcom reruns.