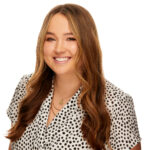 ERIN BOSTROM
MSW, Manager of Medical Community Outreach
Erin Bostrom is our counseling intern in the Greensboro office. She is in the second year of her Master's Program for Clinical Social Work with UNCG and NC A&T.  She is expected to graduate in May of 2021 and plans to pursue her license in clinical counseling with Awakenings Counseling.
Erin is no stranger to the Awakenings family. In early 2018, Erin began working with Dr. Watson as her personal assistant. In 2019, Erin's focus changed and started learning more about the business side of Awakenings. Her responsibilities shifted to speaking and joining with both current and potential clients, scheduling appointments, and working directly with therapists. Over the years, Erin has become very familiar with the Awakenings community and understands the nature of the work. This experience motivates her desire to work with the clients at Awakenings.
During her years with Awakenings, she has gained an informal education. It is through the formal education in her master's program she has begun honing her skills as a clinician. During her internships she has used several theories such as cognitive behavioral therapy (CBT), attachment theory, and emotion focused therapy (EFT). Erin has shadowed other social work clinicians, licensed marriage family therapists, psychologists, and licensed clinical mental health counselors. However, her main approach to therapy is to create a safe space, free of judgement and criticism. As an intern, Erin's focus is for her clients to feel heard. LGBTQAI-friendly.
Fun Facts: In her down time, she loves making traditional Asian cuisine with her Vietnamese grandmother and family, playing board games, and watching documentaries and new movies with her partner. If you ask her what she really loves, she will tell you that she loves re-watching her favorite TV shows and movies by herself when she can.