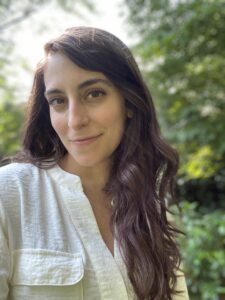 Alexandra Benejam
PsyD, MA
(She/Her/Hers)
Dr. Alex Benejam, PsyD, has her doctorate in Clinical Psychology from Widener University where she specialized in child, adolescent, and family therapy. She moved to Raleigh from Urbana, Illinois, where she worked at a community mental health center helping individuals and couples. Her practice covers issues ranging from depression to anxiety to ADHD, and she enjoys helping people experiencing challenges with relationships, religion, sexuality, gender, life transitions, and identity development. As a sex therapist, she enjoys helping individuals and couples find pleasure and safety in intimacy again or for the first time in their lives. LGBTQAI-friendly.
When working with clients, Dr. Benejam utilizes a relational and emotion-focused approach, and tailors her technique to each individual or couple to help them reach their goals. She believes that change is always possible and uses therapy to help others grow and heal while recognizing and reshaping unhelpful patterns that make us feel stagnant or disconnected in our relationships.
Dr. Benejam spent several years living abroad in Italy and Brazil, and finds that her experience living in other cultures helps inform her practice with clients. In her spare time, Dr. Benejam enjoys playing the acoustic guitar, cooking spicy vegetarian dishes, and hanging out with her three dogs. She loves exploring the outdoors with her partner and is always looking for great new hiking spots or climbing routes.
Accreditations:
Doctor of Psychology from Widener University
Master of Psychology from Widener University
Bachelor of Arts in Italian, Portuguese, and Spanish Language and Literature from the University of Illinois at Urbana-Champaign