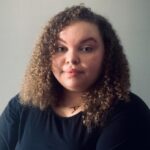 Alexis obtained a Bachelor of Science in Family and Community Services and Master of Science in Marriage and Family Therapy from East Carolina University. She is passionate about creating connection and opening people's hearts to the healing power of vulnerability in her practice. Alexis enjoys working with individuals, couples, and families to address the cycles and discourses that influence relational and individual health.
Her experience includes work with individuals, couples, and families in the context of primary care settings, non-profit agencies, and community mental health systems. She has experience working with domestic violence, trauma, identity, sexuality, anger management, and diagnoses such as depression and anxiety. Alexis works with clients to deconstruct ways that client's social location, intersectional identity, and relationships impact experience. Alexis uses her training in Family Systems Theory and Narrative Therapy to help clients reach their goals.
As one of five siblings and a proud member of the Haliwa-Saponi Native American Tribe of North Carolina, you can find Alexis spending time with her family and extended tribal family outside of the office. She also enjoys concert-going, bingeing all the TV and movies she can make time for, and dabbling in interior décor.